Her vision of the world and her clarity of ideas regarding art took her to be one of the most important gallerists in the history of modern art
According to Denise René, the renown French gallerist, art has to be in movement and has to find a way to open new ways and forms of expression.
It was precisely that inclination of reinvention that motivated her during the post war period; to transform her sewing workshop into a place that would later be recognized for breaking down paradigms.
Since 1944, perhaps propelled by her passion for art, her space was transformed into an Avant Gard icon that became a cradle for artists that were creating the movement and optical illusions: her inspiration.
These few lines are a homage to a great woman with a brilliant mind, who, thanks to her intuition, artistic vision and search, opened doors to many abstract, impressionists, geometric and kinetic artists. She was a woman who was able to teach the world a new form of perceiving art.
The Avant Gard Footprint in Paris
When we speak of Denise René, is without doubt, speaking of a privileged mind. From her gallery she drove the world to soak up and learn new forms of artistic expression.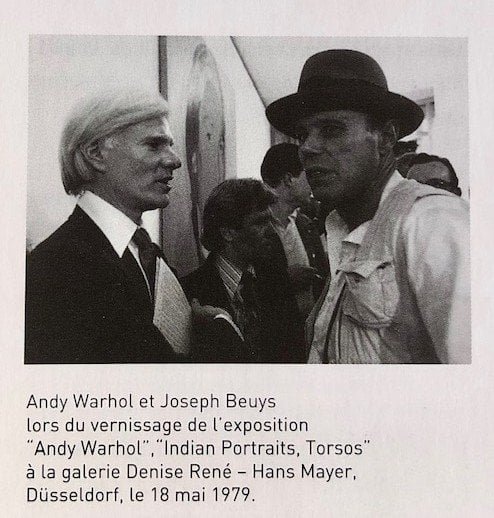 Victor Vasarely, the French-Hungarian, with his "Drawings and Graphic Compositions", was the first artist to exhibit in this Parisian gallery in 1944, when art critics of the time had rejected him.
Over the years, 124 de la Rue Boétie became an indispensable tabernacle for modern art, with a catalogue of non-renown abstract and kinetic artists from around the world.
Denise René's inclination towards what is different and her great assertiveness helped to place many artists claimed today in the global limelight.
Artists such as Alberto Magnelli, Jean Arp, Auguste Herbin, Jean Dewasne, Sonia Delaunay, Sophie Taeuber-Arp, Geneviève Claisse – the first women belonging to this artistic trend,- Piet Mondrian, Vassily Kandinsky, Francis Picabia, Marcel Duchamp, Jean Tinguely were shown to the world from her gallery.
Yet they were not the only ones. In 1955, alongside the philosopher and art historian Puntus Hulten , Denise René gave life to Le Mouvement; the first kinetic art exhibit, that would later be recognized as the birthplace of this artistic expression.
This is where the first provocation to live and be part of art in movement would take place. A new way, which, during the 50´s, would break all paradigms in the relationship between the artist's work and the spectators.
Denise René's gallery brought together the work of various generations of artists such as Jesús Soto, Robert Jacobsen, Alexander Calder (the one of the Clouds in the UCV), and the Israeli Yaacov Agam, Marcel Duchamp y Jean Tinguely.
Denise René and Kineticism
Over the years, and thanks to Denise René's vision, her gallery opened the doors to many artists, including some such as Jesús Soto, Julio LeParc, Narciso Debourg, Dario Perez-Flores, among others.
Carlos Cruz-Diez, another great Venezuelan artist present in the Parisian gallery since 1964, participated for the first time in this space during the exhibit Le Mouvement 2.
More recently, Denise René had represented for over 10 years, the work of Elías Crespín, the Venezuelan artist, who today, is the first living Latin American artist to have a permanent installation at the Louvre Museum.
1913-2012, Ninety-nine Years of an Audacious Glance
If we were to define Denise René with adjectives, we could not leave out audacious, wit, objectivity and avant-garde. These are words that always defined her passion and inspiration when selecting the artist that formed and form part of her gallery.
Throughout her life, she was always inclined to find art with other ways to see and express reality.
Perhaps the response is in her search in understanding a world ¨perpetually in gestation¨.
Perhaps her vision on art and life can be summarized somewhat in this phrase:
"In a piece by Herbin, by Vasarely, there is no space for the dark forces, sinking or morbidity. This art clearly translates the total dominance of its creator. A propeller, a skyscraper, a sculpture by Schoffer, a Mortensen, a Mondrian are the works that reassure me; we can read within them, blind the domination of human reason, they are mankind's triumph over chaos. For me, this is art's role, the emotion that can be found in its great length."