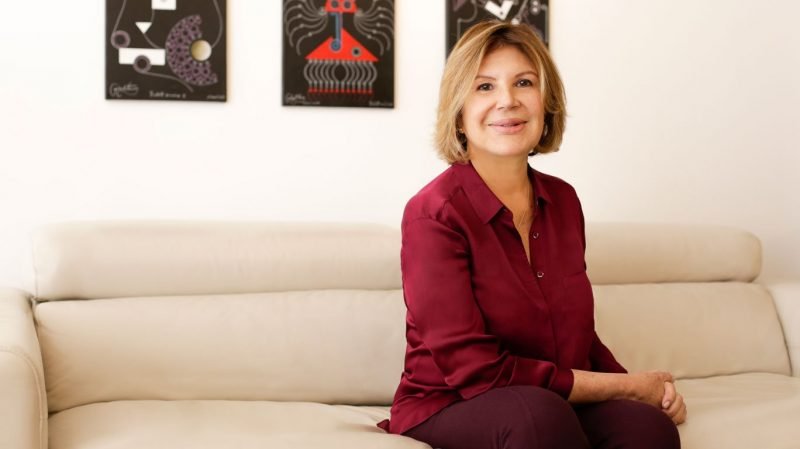 Ninoska Huerta
Connoisseur, Collector, Advisor & Private Art Dealer
Inspired as an adolescent by the writings of Uslar Pierti´s ¨Knowledge of Art¨, ¨Invisible Friends¨ and by the emerging kinetic artists, Ninoska developed a profound attraction and passion for the arts.
She graduated in the 70´s as an Interior Designer in the Iles Academy in Caracas, Venezuela, later pursuing studies in Art at the Universidad Central de Venezuela. Soon after, she moved to Paris for a brief period, where she immersed herself in acquiring more knowledge in the arts at the Louvre while meeting numerous artists that would later influence her coming years.
By 1994 Ninoska returns to Venezuela and opens her own gallery supporting upcoming artists of the time, such as Karim Borjas, Victor Valera and Oscar Zañartu. This venture opened new opportunities and established lifetime bonds with the artists she represents to this day.
In 1998, Ninoska founds and directs the Sala Deltaven, a subsidiary of PDVSA in Caracas, Venezuela. After 12 years having not participated in exhibits, she was able to convince Jesús Soto to be the inauguration exhibit for this new art center. That same year, both Carlos Cruz-Diez and Victor Valera also held exhibits in the Center, thus becoming a recognized cultural center for the arts.
However, 1999 with the change in government, Deltaven closed its offices including the Art Center.
Because of the special relationship established with Soto and his family, Ninoska became curator for all of his future exhibits, executing in 1999, at the Sala Previsora, commemorating 50 years of the Inlaca Company and in 2000 at the Centro Cultural CorpGroup, celebrating the Center´s 10th anniversary.
During the year 2000, Ninoska publishes as Editor her book titled, "Soto y la Escritura / Soto and the Scripture" in which Soto fuses his art with poetry excerpts from Uslar Piertri´s ¨Multiple de la Escritura¨, as homage to both intellectuals.
The book was published and presented in Caracas, celebrating the aperture of telecommunications for Telcel. In May 2001, the book ¨ was presented in Paris at the Maison de L'Amérique Latine. The book was presented with 25 works of art produced in Caracas and 25 produced in Paris, accompanied with each one´s poem of Arturo Uslar Pietri.
At this time Ninoska began representing numerous artist as their Art Dealer at private presentations.
As of 2006, now living in Miami, she participated in over 20 art fairs, including Art Miami, Art Americas, Silicon Valley art Fair, immersed in the Latin American art movement in Miami. By this moment she represented Soto, Cruz/Diez, Marcos Marin, Rafael Barrios, Dario Perez-Flores, Elias Crespin, Walter Strack, Jorge Segui, Lluis Barba, Jose Bedia, Oscar Zañartu, Carlos Anzola, Paul Amundarain and Karim Borjas, to name a few.
From November 2012 through June 2015, she directed the Cultural Space at Biscayne Art House, on Brickell Av., hired by Biscayne Capital.
That same year she presents the exhibit "A Thought for the Planet", by the artist Annette Trujillo, open to the public at Phillip and Patricia Frost Museum of Art, attracting over 5000 visitors. This effort later lead to leading and executing an auction with the donation of 10 artist to bring funds to the Phillip and Patricia Frost Museum at FIU, in collaboration with the Museum director Carol Damian.
May 2016 is highlighted by the exhibit of contemporary artists in North Miami, in honor of Sofia Imber, renowned Journalist, art Critic and Museum Director.
In 2017, Ninoska executed the Ephemeral Exhibit with the Master Carlos Cruz-Diez artworks in conjunction with the City of Coral Gables. Thirteen harmonies were installed in the City Hall Building between columns and 8 different harmonies were painted at different crossroads throughout Coral Gables.
Most recently, Ninoska has presented books and exhibits at Books & Books, in Coral Gables (2016-2018).
In 2018, Ninoska Huerta Gallery opened at Aragon Ave. in Coral Gables. At present she continues organizing 3 to 4 Private Exhibits of local and international artists and continues developing art projects for public spaces. At the moment 2020, Ninoska Huerta present the Exhibition " Mirrors of Time'' by the Cuban artist Carlos Estevez.
Her experience, knowledge and vision in identifying new art movements and outstanding talents has brought success to Ninoska and to those she represents.